My first ever attempt at bunny bonding – any suggestions after reading this will be happily received

For those who don't know my fur family :
"ZOUZOU" – Female Vienna Blue – spayed June 2016
Age 2 yrs 7 months. – adopted at 3 months old direct from a litter (not really a breeder, but someone into Vienna Blues).
6kg of regal calmness
"HENRY" – Male French lop – Neuteured October 2016 (6 long weeks ago (they've been separated since then))
Age 1yr 8 months – adopted 6 weeks ago from rabbit breeder wanting to focus on dwarf buns.
4.5kg – a crazy, hyper, bouncy, eternally hungry, furball who doesn't sit still for more than 2 minutes. He reminds me of an overly enthusiastic spaniel being trained as a drug sniffer dog with his only goal getting the tennis ball at the end (Henry's reward would be a pellet!!)
= = = = = = = = = = = = = = = = = = = = = = = = = = = = = = = = = = = = = = = =
I was going to do an all-in-one bonding account – but I'm thinking all sessions will seem the same and I won't know how to remember them…

I have a three day weekend now and I hope to do about 4 x 20 mins sessions per day : 20 mins in bath, 2 hrs rest for them (and me on BB reporting back), 20 mins in bath etc..
DAY 1 – SESSION 1 – 20 mins in BATH
===============================
Equipped with Ski gloves and water spray. (I pressed the video button, but it hasn't taped !!

)
Put towel in bath, and lots of willow branches. Henry has been a bit bonkers this morning! I have been away for a few days and I think I underestimated the food rations of endives and salad to give him (by my excellent bunnysitter) so he was craaaazy hungry for anything other than hay…

Both transported up to bathroom in their respective travel carriers – Henry clawing fiendishly at cage to get out and EAT SOMETHING!

Put Zou in the bath first (via carrier) as she doesn't like being picked up. Then put Henry in bath and quickly put SKI GLOVES on(BRILLIANT protection!!) and got water spray ready.
After about 10 secs of 'where are we?', they approached each other and went hell for leather!

I could sense the energy before they kicked off (and I was on high alert), and the water jet was having NO effect, so I separated both at each end of the bath (both still screaming "LEMME-AT-HIM!!" and fighting the gloves viciously). After a couple of shouts from me and the gloves keeping the buns away from each other they calmed down (so did I – LOL – now I know the gloves protect me very well!).
Zou head down, calm, not moving, white third eyelid showing. A few grunts came from within and I think I remember a thump!
Henry shook himself off and started eating the pellets (not interested in the willow!).

Comforting nose and body strokes from the ski gloves and soothing "there we go"s from me (and me crossing over gloves to get the smells mixed). I removed the gloves from their bodies from time to time (for them to come out of their zoning out and realise they are in the bath with the other bun!)
I think (though I wanted the video to look back over, grrrr) Zou starts it, but Henry is having none of it and is the more energetic and tenacious fighter.
Them both being big buns there's not much room to work out who is doing what.
I 'think' Henry wanted to put his head under Zou's side-on body, but I was wary and moved him away on this first session.
I spent the rest of the time with one hand between them. Zou started cleaning herself (me? wet? humph!!) and Henry eating and looking for other pellets….("where are they, where are they, where ARE they?)

When I lifted my hand it was like pressing pause on a film, they both stopped chomping or cleaning until I put it back down as a mini barrier.

I did let them have 2 more attempts at fighting (no real contact made, but the atmosphere was obvious and 10 kg pounding around the bath is quite a sight) and then just stroked and stroked their heads.
Henry approached Zou's head (no reaction) looking for any stray pellets but I kept my gloved hand in between them.
I left it on a good note. Both back into their carriers.
I have now, for the first time since Henry came home, let him out on the patio to explore outside (pleeeease don't let him jump over the already-raised-twice barriers) and Zou's condo (Zou's absolute 100% territory).
I've kept Zou indoors to explore Henry's cage.
They are separated by full length windows and Zou was pacing up and down them Inside obviously miffed that Henry was out there….

If I have one doubt (amongst many others…) it is I'm not sure when I will be brave enough to lift the hand and let them try to have dominance fights/humping but not a full on fight…
First photo after first big fight and lots of head stroking.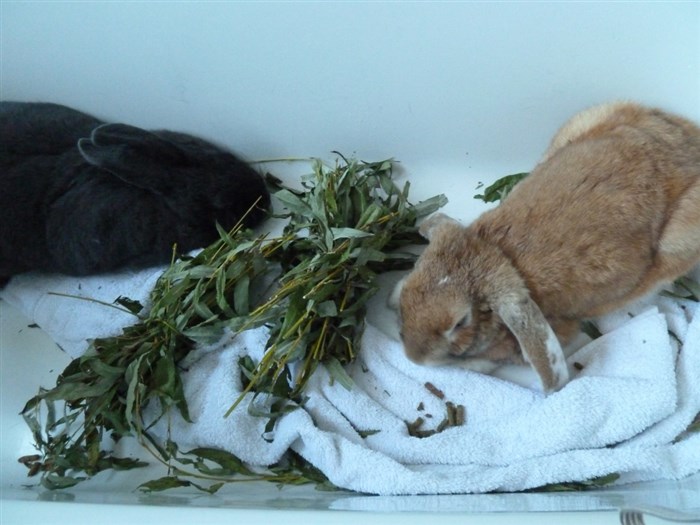 Zou thinks it's safe now to sit up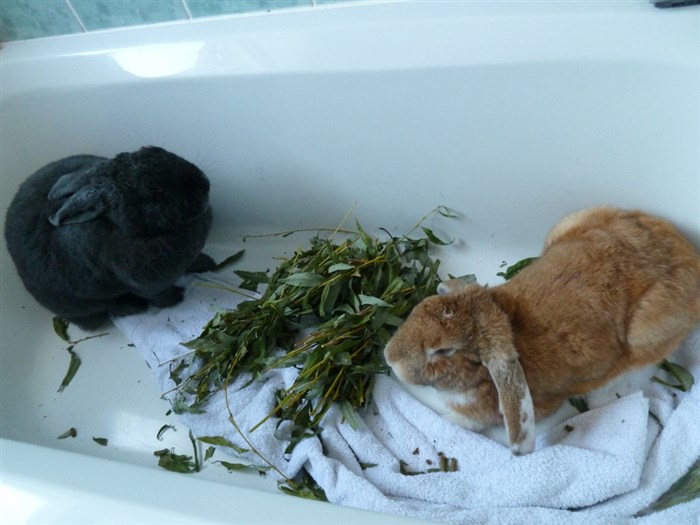 They both have a wash after their water spraying !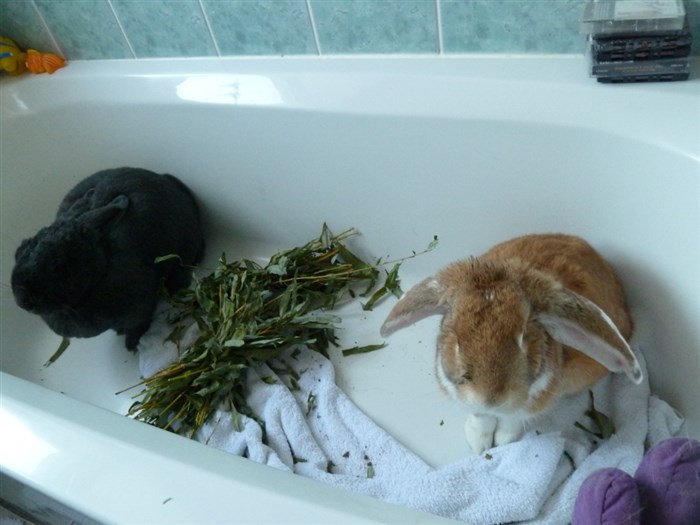 Zou feels OK now to have a nibble of the willow (henry hasn't stopped eating his pellets!) – a simple gloved hand makes them feel OK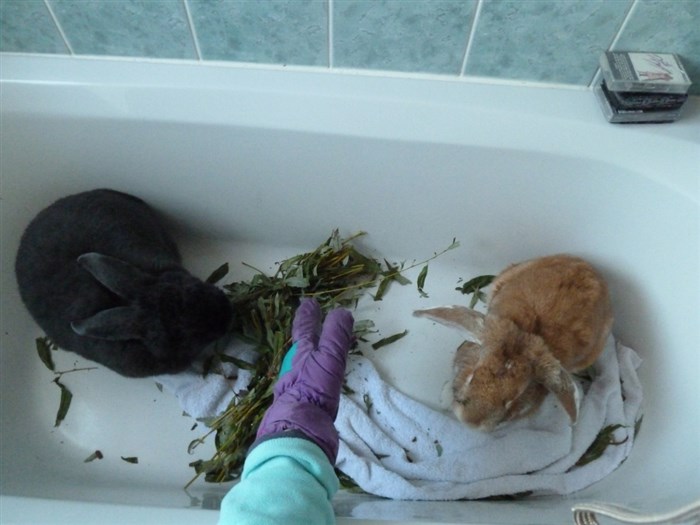 Nibble time, I withdraw glove and Henry gives Zou a bunny butt !! (Notice my lovingly placed and flattened out towel earlier! :ermm)