Some bunnies like canned pumpkin in their CC too. You might also try some other brands of recovery food. 2 of my bunnies like the CC apple banana, the other two like the Sherwood recovery food better. They all have their preferences!
Also, there was a timely article in the newsletter from our rescue about training buns to take their meds willingly. Maybe Luna could learn to like her CC? I'm having trouble accessing it online, but here's the text from it:
"Cooperative Care
By Jean Silva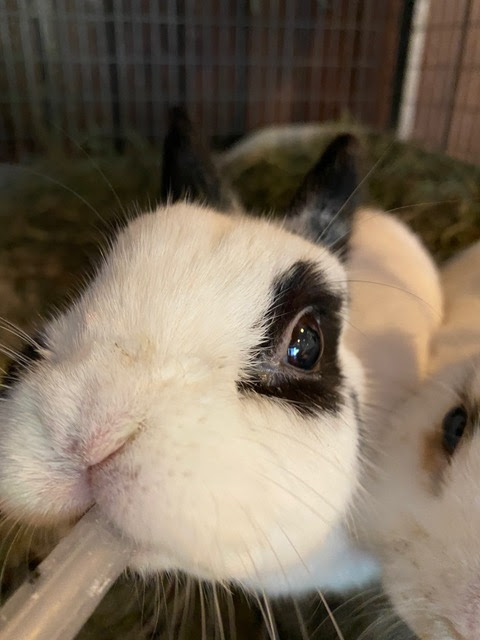 "Give her 1.5 cc's by mouth twice a day." the Vet Tech said handing me a bottle of medicine, a syringe and Fang's carrier.
"How am I supposed to do that?" I thought as I smiled and nodded.
Once home, I checked the internet and found all sorts of helpful suggestions:
Wrap your pet in a towel like a burrito. No good. It took both hands to keep Fang wrapped in a towel.
Have someone hold the bunny for you. My husband held Fang. Fang tried had to bite my hand whenever it came close to her mouth.  The burrito had been a big mistake.
Finally, I squeezed drops of medicine onto a mini shredded wheat until it soaked in.  Fang, ate it right up. Problem solved – sort of.
In those days I gave medicine to the sick animals at BUNS.  I tried many things.  Pry the mouth open and shove the pill down the rabbit's throat with a finger. Ouch. It worked for the vet.  Use a Pet Pillar instead of your finger to place the pill in the back of the mouth. The pet spit the pill out.  I held the mouth closed until the pet swallowed. If looks could kill.  Mash the pill with banana and serve it on a tiny china plate. If the pet refused to eat it, draw the mixture up in a syringe. Hold the bunny and squirt it into the mouth.  Small wonder the everyone began to back away whenever I came near.
Then I began to see zoo animals that voluntarily came forward and stood still for an injection. I bet they never even tried to wrap the hippopotamus in a blanket like a burrito. Hmmm.  My friend Peggy Hogan trained her horses to voluntarily participate in dental exams, eye treatments and wound care.  People were calling it Cooperative Care. Wow! Did I really need to pick up, immobilize and pry open an animals mouth to give it medicine.  What if I just offered the meds to the bunnies?
I started with a honey flavored liquid anti-inflammatory (Meloxicam, also known as Metacam) that most bunnies seemed to like.  I'd draw up the medication in an oral syringe and make a small "bead" of the stuff on the tip of the syringe.  Then I would put the tip of the syringe right under the bunny's nose near the mouth and gently move it back and forth until I felt the bunny take the syringe into its mouth. As I felt the bunny lightly chew or move its lips on the syringe I would slowly depress the plunger.  If the bunny stopped so would I.  When they began again, so would I.  Some of the bunnies began run toward me as I approached with the syringe.  That's a good sign.
When Clyde was prescribed SMZ-TMP I picked him up, held him still, lifted his lip and gave him the medicine.  He hated it.  He would run away when I approached.  That's a bad sign.  Well, I thought why not?  I loaded the oral syringe and tapped it on the enclosure wire to make noise.  Clyde came over, sniffed the syringe and drank the whole thing. The medicine was fine. Clyde just hated being caught and immobilized.
I offered the syringe when Bindi was prescribed SMZ-TMP.  She was happy to drink the medication from an oral syringe.  Bindi lives with her mom, Ponta.  When Ponta saw Bindi happily drinking her medication, Ponta wanted some too.  I started giving Ponta a rabbit pellet for each dose of medication Binda drank.  One night as we sat on the couch, my husband asked, "Why are Ponta and Bindi standing there?"  I looked at the bunnies who were liked up at the edge of their enclosure.

"They are waiting for their medicine." I said, all cool.  WOW! Not only were they voluntarily taking medicine, they asked for it.
Next I tried Juniper the guinea pig.  She was new to the shelter. But she took treats from my hand. So why not medicine. Juniper swallowed the SMZ-TMP and tried to pull the syringe out of my hand.
When the Vet Tech hands you an oral medication, consider just offering it to your pet. You might be as surprised as I was.  If your patient has a companion, please bring something for that bunny as well.  Bunnies and guinea pigs are more comfortable in groups and no one wants to miss out on treats.  Engaging both animals gets good momentum going.
It helps if your bunny or guinea pig is used to taking food from your hand.  So long before your bunny or guinea pig gets sick, offer some parsley, cilantro or food pellets from your hand.  Do that regularly.
If they don't take medicine voluntarily, try changing the delivery method.  I have had good success squirting SMZ-TMP onto spoon sized shredded wheat for example.  Rabbits will eat the SMZ-TMP laced biscuit even if they declined straight SMZ-TMP.  Mixing a medication with banana can work too. Tossing it as dressing on a salad is another possibility.
If none of those things work, then it may be time to get out the towel and try a bunny burrito.  But try something else first.  Your bunnies would appreciate your thoughtfulness."
. . . The answers provided in this discussion are for general guideline purposes only. The information is not intended to diagnose or treat your pet. Seek the advice of your veterinarian or a qualified behaviorist.