Thanks JG for the link. Podge did have some funny poops, he seemed to have more consistently odd poops though. Luna has perfect poops, and then just a couple of times a day these mushy ones that kind of look like they want to be cecals, but aren't really

In regards to her weight, I can't imagine any teeth issues. It's been like that since I got her, well after she lost her excess weight I found that she dropped below where she should be. I increased her burgess pellet amount a little but after I switched to Vetafarm pellets instead I found she held her weight better, but I suspect if I took pellets away her weight would drop like a stone (guessing, then again she only gets 2 tablespoons anyway). Apollo on the other hand has no trouble keeping a good weight.
I forgot to add it yesterday, but here's yesterday's poop offering. I think shortly after lunch time she did these clustered mushy poops, they're kind of almost cecals but too big and not properly formed. The regular poop is in the shot for sizing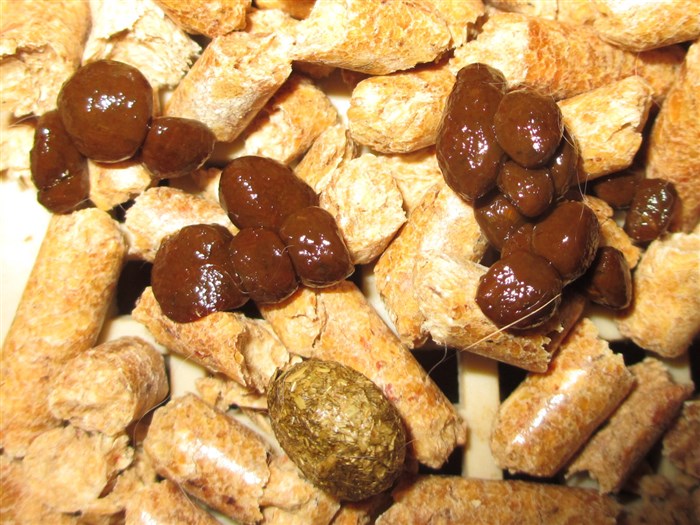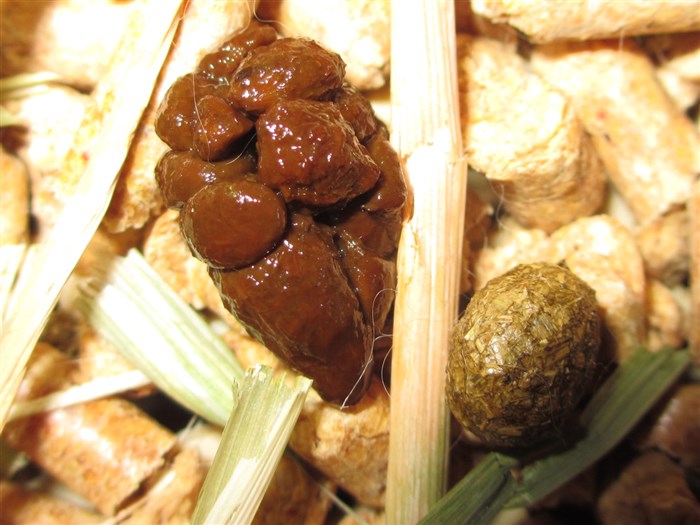 Then around 5:30pm yesterday she did these mushy poops leading into normal poops, there seems to be a graduation in the change. Is that normal? I've never noticed it with any other rabbit.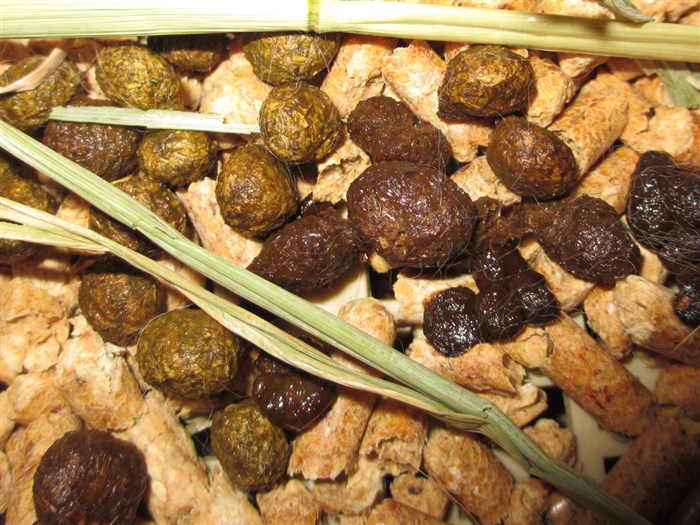 TODAY: Shortly after I got home from work, she went down to the litter tray, left these cecals and nothing else, then went back upstairs to relax. I can't help but wonder if those large mushy clustered poops from prior days were meant to be cecals and her cecal poops have just been deformed all this time? I don't know, just speculation. She's obviously not eating these, so I'm wondering whether she's over producing. She definitely does others that she eats because I see the stains on the upstairs fleece where she sits. And I see her reaching down to nom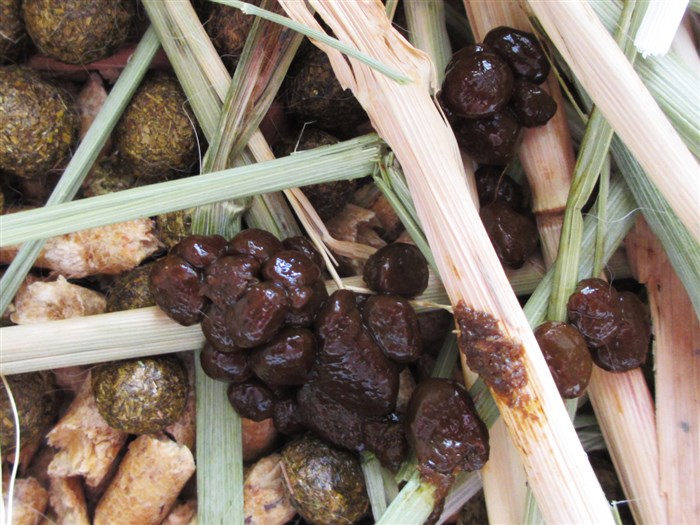 While writing this post she's just jumped back into the box so I'm just reading some info and waiting while she goes about her business

I found these two interesting pages on the HRS website about cecal disorders:
http://rabbit.org/disorders-of-the-cecum/
http://rabbit.org/intermittent-soft-cecotropes-in-rabbits/
The things I'm taking from both of those is that I should have cut her back only to hay, I'm just concerned about her weight. I wonder whether it would be worth a vet visit before dropping only to hay, or whether after a week or no greens if I then cut down to only hay for a week and if that's not working then a vet visit. I'm not sure there's much to be done about it though, everything I'm reading about abnormal cecal motility doesn't seem to offer strict diagnosis methods, unless the rabbit is also visibly very unwell, which Luna is not. Most commonly caused by incorrect diet/lack of dietary fibre. But Luna eats lots of hay. I know that gut flora can take time to correct itself though, and perhaps it just didn't get that chance after I first brought them home. They were on a litter which was actually chicken feed pellets (terrible I know), so in the likely scenario that she'd been eating that (Apollo had been, it's why he was so fat, lol) I suspect it's probably just a roll on from all that. I paid lots of attention to their fecal poops back then, but didn't really look at cecals, I should have.
Still, I suppose it's only been 4 days or something since dropping greens. Her poops just now were normal fecals with about 2 that were darker and more moist like the other "transition poops".
Hmm… just looking through pics of her, I wonder if her yoga pose is a discomfort pose. She's just done it every so often since I brought her home, so I figured it was just one of her quirks.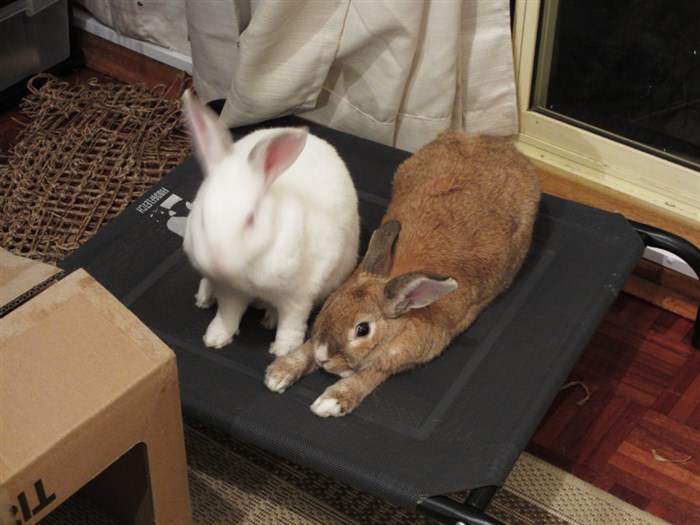 Sigh, Apollo is sitting on the hay rack again. He jumped in it yesterday with his bum hanging over the edge and was just sitting there munching with poops dropping out, lol. Too lazy to jump in the tray, but he'll sit in the hay rack.
Anyway, sorry for the long post. Thanks again for advice and help. JG that thread with Podges poops really helped because it's helped make it more clear that this is about cecal poops, and not fecals at all.