,,,for my friend stopped running today. ~Richard Adams~Watership Down
Most of you know I've had some recent crises with my MacKenzie River Husky lab cross dog, Taiku. He was unable last week to go to the bathroom and we ran him into the ER and they lavaged and irrigated him for that evening and into the next day and it was pretty rough on him. When he came home, we weren't sure he was going to bounce back, but he did. And he'd almost achieved normal status again.
Sadly, yesterday, he had a relapse. Unable to go, stiff and uncomfortable. We took him down to fluids only and plied all the tricks and tips the vet had told us to use to get him going again.
This morning he was exponentially weaker and so off to the vet again. My husband just phoned form there: his bowels have failed him. He is cold from sitting in the snow only God knows how long and his vitals were very weak. They could've rehydrated him again, but we'd be dealing with this again within the week and my poor boy is just too tired to fight anymore.
My husband will be there with him while they send him across the bridge. I told him I loved him before he left and his eyes looked at me kind of sad and distant. I've seen that look before. I'd prayed for God to release him from this body if he couldn't get better, so the Lord has answered my prayers.
My husband is devastated. He's lost so many, one of which was a family poodle he saw hit by a car right in front of the whole family when he was little. This duty is never the best thing for him to have to undertake.
We'll bring our boy home to be buried near his mother and sister. Only Shadow is left now. Poor thing….he's been so openly worried about his boy. I don't know how I'll get him to udnerstand, and yet I know he probably already feels the empty space next to him. Perhaps Taiku has already come to say goodbye.
Thank you all for trying so hard with your get better and healing vibes. The call of paradise was just too strong.
Goodbye, Taiku. I'll miss your rambunctiousness and madcap affection. All the times you've tried to pull the fence down becasue you were scared of loud noises is over now. But then so are the times I could've held you in my lap to make you feel better. We'll never forget you. Please don't ever forget us. And say hello to Willow and Dusty for me when you see them. I'm sure they are there with you now, and Kimba too, and the family is almost complete once again.
Watch over us. We will be looking to the skies hoping to see a glimpse of your faces. God has some excellent guard dogs there with him now to walk the golden streets with.
I ruv roo, buddy. *kisshug*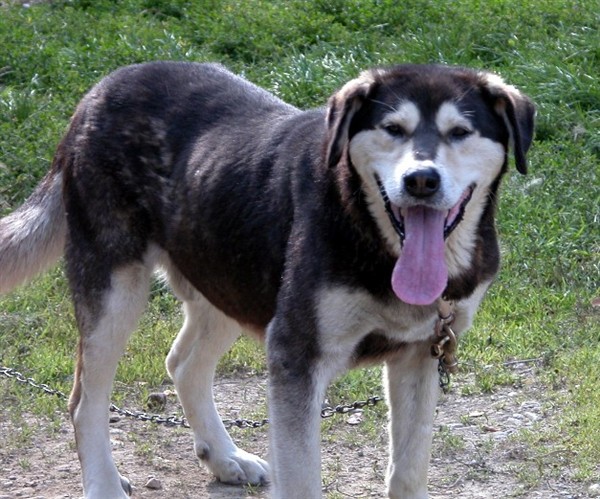 EDIT TO ADD: Just got a call from my husband. He's bringing him home now. Apparently he fought the euthanasia so my husband would have a few minutes to say goodbye and just took his pets, then they had to double the dose. I hate those moments, when you're just not sure you've done the right thing. But I could not have in all good conscience put that poor creature through any further treatment. It wouldn't have been life…it would've been maintenance. He's peaceful now and not hurting anymore. That is what he needed more than anything.
Still…what a horrible beginning to the day. I've already had to tell my son. He is heartbroken.

We all are.