Posted By BinkyBunny on 09/26/2010 01:46 PM
Oh…Karla, I missed your post for some reason. I LOVE your bunny room (saw in your other post) — looking forward to getting the photos. Since we are both all over IKEA , you must recognize that my bunny room is filled with IKEA — the futon, the lamp, the side tables, the frames and photos of greens, the storage units, the mini fridge table and even the shop vac hose holders (not in the photos) are IKEA toilet paper roll holders. : P
Ikea is the way to go

 What about this one here: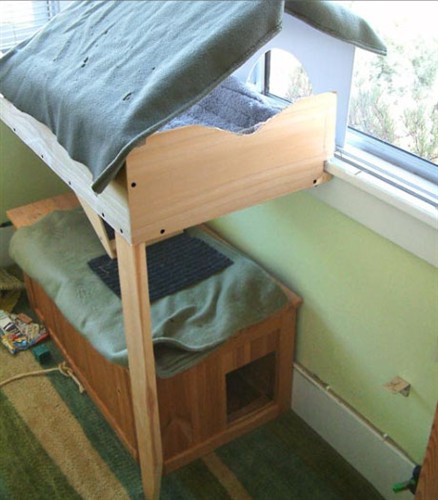 Is this something from Ikea that you have customised?
I would really like something like that! It is brilliant. So please let me know where you got it form or how you made it.
Our apartment has just been sold, which means we are moving out next month, so I won't finish the bunny room this time. But once we are settled in a new place, I will send you the pictures, so you have more photos in the gallery.
The only downside of a bunny room is stubborn bunnies choose their litterbox spot and sometimes it's not the prettiest place.  I have tried over  and over to get the boxes hidden back underneath the side table in the back in the corner, and it worked for a little bit, but Jack can be so bossy over the boxes and Vivian doesn't like feeling trapped. She also would escape his annoying behavior by going under the couch and peeing there.  So I had to make some adjustments — We made a flexible easy-to-remove piece of coroplast to block underneath the couch, and then I brought the litterboxes to a corner, but more out in the open. I even had to put up a little privacy wicker wall between two boxes (as seen in my bunny room photos) so that Jack would not see Vivian using a box without his permission.

He's been such a good boy with her lately but I don't feel like disrupting the peaceful vibes by moving things around to what just suits me..   
LOL, you gotta love them for having personalities

 Although I am sure it hasn't been easy always with such strong personalities in the house, it does sound really funny.