Laaaaadies and Geeeeeentleman (

), welcome to the battle of the litters.
ON my LEFT is a one inch complete covering of Megazorb – £17 for 85 litres, currently using a third of packet so far after one week.
Light and fluffy white colouring flakes – slight odour to it – not particularly nice but not horrible either.
ON my RIGHT – a sparse covering of wooden stove pellets – £3 for a bag (a quarter of the volume of the megazorb bag) which will probably last a month….
These will lay in the bottom of a double layer litter tray (the buns don't stand directly in these products)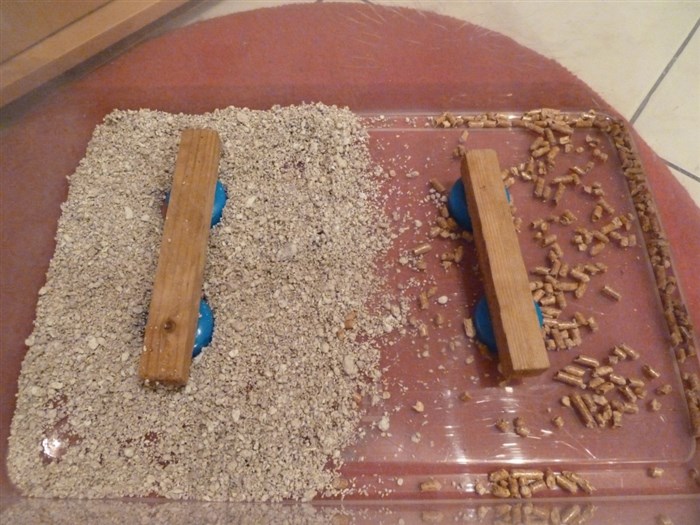 After one night of serious training, endurance and in-depth testing…. below is the photo of the 'morning after'… (I did turn it around half way, so they both had equal pee quantities….

)
The Megazorb does not change in appearance, quite strange really having got used to the swelling and mushiness of the pellets 'post-pee'. It's only on touch (and OK I suppose a slight change in the whiteness which goes a tad greyer) you realise it's been peed on. The wood pellets, true to form, got wet, swelled and were quite obvious at a glance that they had been peed on !
Both smell a bit "woody". The megazorb keeps its strange smell. Personally I prefer the pellet 'WOOD' smell.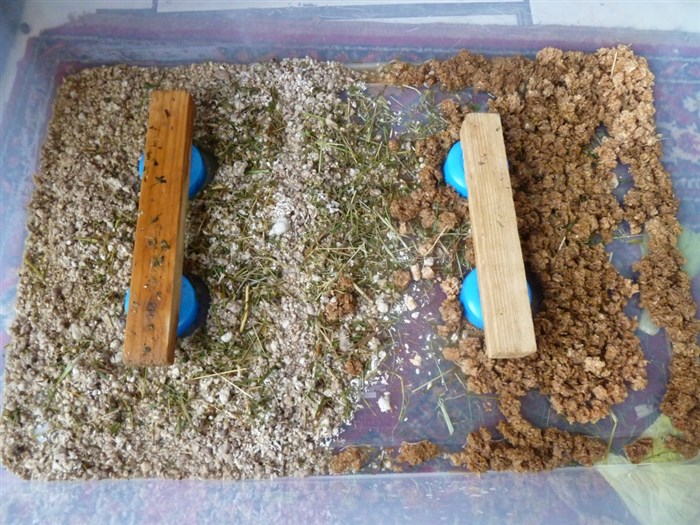 On closer inspection the Megazord should have had a thicker coating – there were bits of pee non-absorbed and so swished about when I moved the litter tray. You can see it in the bottom of the photo pooling around where I removed the milk bottle top, which elevates the top litter tray.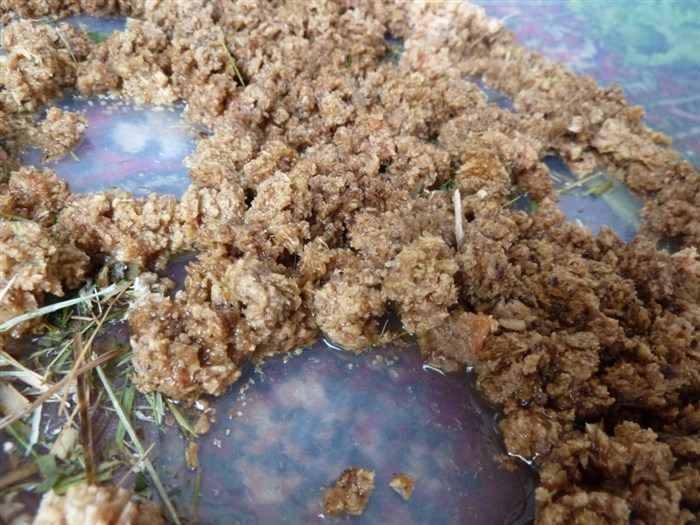 CONCLUSIONS – Hmmm. Well I can't get Megazorb here in France and it's not won me over sufficiently (financially nor efficience) to bring months of supplies back over when I visit the UK.
I reckon Megazorb would come out to be more expensive, it takes up heaps more room to stock (but much lighter than the pellets) and smells less woody than the pellets. It is light and fluffy so goes everywhere when i stick the trowel in the bag to get it out – and need about 5-6 trowels worth to fill the litter tray.
The pellets are readily available and cheap – yes the small, solid bags are HEAVY to transport, but take up much less room to stock for the same timeframe. A few scatterings of pellets in the litter tray suffices (one or two hand fulls) and there is less mess in the house, depotting from bag to litter tray.
I "think" (nothing scientifically tested yet) the Megazorb maaay hold out for a day longer than the pellets before needing dire changing, but maybe that it also as I only scatter a few dozen pellets in the tray for a 24 hr period…