DIY Toy Tests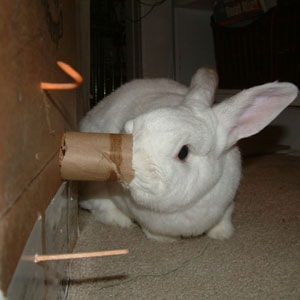 Bunny Toy Test
Fun DIY Toys to Inspire Curiosity, Exercise, and Play.
Finding toys that bunnies actually spend time with is challenging. Sometimes just a plain old cardboard box can be inspiration for a fun DIY project your bunny will love. Hay and a treat stuffed inside a cardboard roll, makes for an entertaining toy too.
Discover some great DIY toy projects that members have sent us or share some of your own!
Check out the TOY DIY TEST ARCHIVE  if you missed a past toy test
CURRENT BUNNY DIY TOY TEST
The Diggy Box II
We've showed the diggy box before made out of a laundry basket and newspaper, but a cardboard box and shredded paper is another fun option.  We can deal with the mess it makes because we have a shop vac nearby.  If you want to keep it contained try the laundry basket version (Scroll down to diggy box)
NOTE: The last couple of minutes is just extra time– just black, so ignore.